Russia 'kills 17 North Caucasus militants'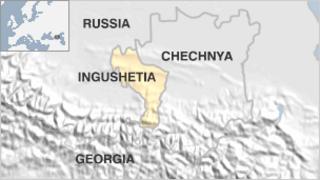 Russian forces have killed 17 rebels and destroyed an important militant base during an operation in the volatile North Caucasus, officials say.
An air strike by helicopters assisted special forces in the raid in the Russian republic of Ingushetia, Russia's anti-terrorism committee said.
Police also arrested two suspects in connection with January's suicide bombing at Moscow's Domodedovo airport.
Three Russian police officers were reported killed in the operation.
The suicide bombing at Russia's busiest airport on 24 January killed 37 people and injured more than 180.
Chechen warlord Doku Umarov said he had ordered the bombing, carried out by a 20-year-old man from Ingushetia. The bomber was named as Magomed Yevloyev.
Ingush security sources are quoted as saying a top aide to Doku Umarov - Supyan Abdulayev - was among the militants killed in the raid on their base. It was hidden in a forest in the Sunzha district, near the border with Chechnya.
There are suspicions that Doku Umarov himself may have been killed.
Domodedovo manhunt
Russian investigators have now formally accused Doku Umarov and another militant of organising the Domodedovo bombing.
Two brothers - Iles and Islam Yandiyev - were arrested in the Ingush capital Nazran on Monday, suspected of having helped the suicide bomber.
Russia has been struggling to combat an Islamist insurgency in the North Caucasus, where insurgents want to create an Islamic state.
"As a result of a pinpoint strike by the air force and a ground operation, a rebel base was destroyed," Nikolay Sintsov, a spokesman for the anti-terrorism committee, was quoted as saying by RIA Novosti news agency.
"Suicide bomber terrorists were being trained there, in particular for terrorist attacks in the republics of North Ossetia and Ingushetia," the statement added.
Correspondents say the use of an air strike in the North Caucasus is a highly unusual tactic by Russian security forces.
Russia first became embroiled in a conflict with Islamist separatists in the republic of Chechnya in the 1990s.
The violence spilled over to Ingushetia and Dagestan and a low-level insurgency has continued in the region.