Macedonia: Name row shows up on wine bottles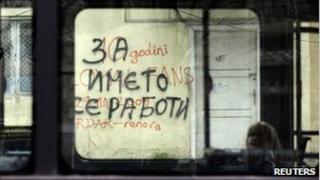 Inside the vast, stainless steel tanks of the Skovin winery, 17 million litres of smooth red and white wine slowly mature.
This winemaker is the unlikely victim of a dispute over names between Macedonia and Greece, a long-running disagreement that is currently being played out before the international judges.
Near the Macedonian capital, Skopje, Skovin is one of the country's largest producers. Once ready, the wine is sold with the simple labels Macedonian Red or Macedonian White.
But recently sales have plummeted to the largest European buyer, Germany.
Greece, which has a northern province called Macedonia, pressured German importers to stop taking the wine, maintaining it had copyrighted the term Macedonian in 1989.
"We feel very protective of the names Macedonian Red and Macedonian White," says Mile Kostov, Skovin's commercial director.
"We are proud of the name and that we are Macedonian. If we lose our German partners, it would be the death of the Macedonian wine business."
For the winery, it was the first taste of a dispute between Macedonia and Greece that has lasted for almost 20 years.
Ancient kingdom
When Yugoslavia began to collapse in 1991, its southernmost republic declared independence under the name Republic of Macedonia.
Greece objected because its northern province of Macedonia was once the centre of a vast and powerful ancient kingdom, and Greeks remain proud of the name.
Athens said that Republic of Macedonia implied territorial aspirations into northern Greece.
Both sides finally reached an agreement in 1995 under which international institutions would use the term Former Yugoslav Republic of Macedonia (FYROM).
But much to Greece's anger, the country has retained its constitutional name Republic of Macedonia. Attempts to find a mutually acceptable denomination have failed.
At the Nato summit in 2008, the issue flared yet again.
Skopje expected to receive an invitation to join the alliance. But Nato member Greece blocked the move, demanding that its northern neighbour changes its name.
Nato decided the dispute must be settled before the small Balkan state can be welcomed.
Skopje was furious, arguing that Athens had violated the 1995 accord. It referred Greece to the International Court of Justice in The Hague. The court is currently hearing arguments from both sides and will rule on the matter later this year.
Macedonia's hopes of joining the European Union are also on hold. Athens has vetoed the start of accession talks until the name issue is resolved.
"We don't want to have an imposed, Greek-designed solution to the name of our country," says Macedonia's Foreign Minister Antonio Milososki.
"We will have to live with that name and our citizens' dignity is at stake. The time has come for Greece to recognise that we exist, that we are Macedonians, that we have deep roots on this land and that Macedonians have no ill thoughts or hidden agendas against Greece."
What of Greece's argument that Macedonia has broader territorial aspirations?
"It could be the subject of a science-fiction book," he says. "The only occupation is by Macedonian tourists during the summer in Greek hotels on the beautiful Aegean coast."
But Athens maintains Skopje has breached the 1995 accord by encouraging UN members to recognise the name Republic of Macedonia and by appropriating Hellenic culture.
Skopje airport was recently renamed Alexander the Great and the city will soon have a huge statue of the ancient leader.
Rewriting history
Macedonia says it has a right to honour Alexander, since he was born in ancient Macedonia.
But Greece argues there is no ethnic continuity between their great leader and Macedonian Slavs, accusing Skopje of rewriting history.
"Skopje's policy with Alexander the Great has been used as a tool for nationalism and that is very dangerous," says the Greek foreign ministry's Gregory Delavekouras.
"For the past 18 years FYROM has not moved an inch. Greece is ready for a solution to this dispute so that Skopje can proceed with its EU accession process."
The Greek border lies two hours' drive south of Skopje. The sign on the border reads: "Welcome to Greece. Welcome to Macedonia."
Further into Greece, standing proud on the seafront in provincial capital Thessaloniki is a statue of one man: Alexander the Great.
"This is Macedonia," says local resident Pari, pointing to the ground.
"We will never accept that they use the name of Macedonia. It is our heritage, our ancestry, our history. They can't go into Nato and they can't go into the EU."
What's in a name?
But by holding up the EU integration of impoverished Macedonia, some believe that the dispute suits a European bloc suffering from enlargement fatigue.
"What is Germany doing - why are they keeping their mouth shut?" asks Lidija Dimova, a Skopje-based commentator.
"What is France doing? What is the UK doing? Maybe this is very convenient for the EU, because by having this stupid dispute we can postpone the question of enlargement. It's just a matter of time before people here lose trust in the EU."
So what's in a name? For these two countries, deeply attached to their identity and their history, it means rather a lot. The international community is urging a compromise. But finding a middle ground in one of Europe's most intractable conflicts will not be easy.
Whatever the country is called, the basis of this dispute has a name: national pride. And that is hard for either side to swallow.