Greek and Turkish youth remember Cyprus conflict dead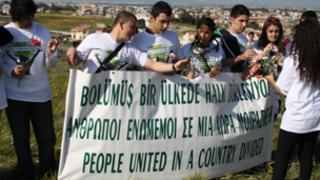 As the fighting in Libya continues, the legacy of an armed conflict more than three decades ago on the Mediterranean island of Cyprus has brought teenagers from the two communities together in a unique commemoration.
For the first time, Greek and Turkish Cypriots have come together to share their common grief.
Many of them are relatives of the hundreds of people who were killed or went missing during the island's conflicts in the 1960s and 70s.
Teenagers gathered to chant for peace on a windy hillside outside Nicosia.
Around 100 Greek and Turkish Cypriots formed a circle of commemoration to remember those killed during the years of violence in Cyprus during the 1960s and 70s - the intercommunal bloodshed and the Turkish invasion that followed.
Flowers are placed in the circle by those who lost relatives in the conflict.
What is significant about this event is that Greek and Turkish Cypriots have chosen to commemorate their losses jointly - and to acknowledge that each side has suffered.
Selective amnesia
Most, like Turkish Cypriot Hakan, are too young to remember the bloodshed.
"I never actually got to know my grandfather - he died way before I was born and I think I would have liked to meet him," he says.
"Both sides lost, both sides didn't get a chance to meet their grandparents. At this stage I'm not looking at who is Greek Cypriot, who is Turkish Cypriot. It is just people that have lost people that they would have liked to meet."
Peace activists in Cyprus refer to a selective amnesia that has characterized each sides' version of history.
Greek Cypriot teenager Stefanos said the "main problem is that most people in Cyprus, Greek and Turkish Cypriots, only hear one side of the story, they only hear about the pain and suffering that their own side has experienced.
"We have both suffered, we have missing people on both sides, and we have both lost people we love," he says.
"It is time now to move on, we have to unite. We cannot continue hating each other and the only way to move on is to know the truth from both communities."
The organisers hope that the next generation of political leaders in Cyprus will be as broad minded as these teenagers - and will break down the mutual suspicion that has infected political efforts to solve the Cyprus problem thus far.