Russian jet in 'miracle' landing leaves forest at last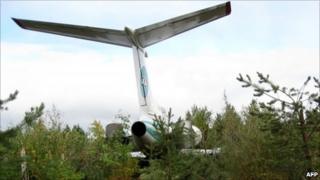 A Russian airliner which made an emergency landing at a forest airfield unequipped to take heavy jets has taken off again after more than six months.
The pilots of the Tupolev 154M landed at Izhma airfield in the Komi region after an electrical failure en route from the Russian far east to Moscow.
The jet overshot the runway by 160m (yds), ending up in trees, but none of the 81 people aboard was hurt.
Both pilots were made Heroes of the Russian Federation.
On Thursday, following repairs, the plane took off from Izhma, making a stop at Ukhta before flying on to Samara in southern Russia, where it is to undergo a detailed inspection.
It is believed the cause of the accident was a heating problem in the plane's batteries.
Glass of water
On 7 September, the Alrosa Mirny Air Enterprise plane, which had taken off from Polyarny airport near Novyy in the Russian far east, was flying at an altitude of 10,600m (34,800ft) when it lost all of its electronics, including its radio and navigation systems.
It also lost the use of its flaps and the fuel pumps that deliver fuel from primary tanks on the wings into the central tank that directly feeds the engine, leaving the crew with only 3,300kg (7,300lb) of usable fuel, a report on the Aviation Safety Network website notes.
Descending below cloud level, pilots Andrei Lamanov and Yevgeny Novoselov spotted the abandoned concrete runway at Izhma, a former airfield which now serves only helicopters.
With none of the navigational instruments working, navigator Sergei Talalayev resorted to checking the horizon with a glass of water.
The passengers were warned to brace for a "hard landing", which had to be accomplished at high speed because the wing flaps were not working, and on a runway just 1,325m long - nearly 900m less than the minimum required by a Tu-154, the Aviation Safety entry notes.
The crew managed to put the plane down on their third attempt to land, using wheel brakes and reversed thrust as their only braking options, according to the Jacdec international air crash evaluation centre based in Hamburg.
Mr Talalayev and the other six members of the crew were also decorated for their part in the landing, which Russian aviation experts described as "miraculous".