Amanda Knox seeks to ban Meredith Kercher murder film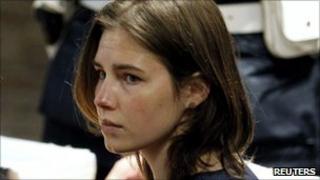 Jailed US student Amanda Knox has called a film dramatising the murder of her British roommate "an invasion of my life".
Knox, 23, is serving a 26-year sentence for the killing of Meredith Kercher, 21, from Surrey.
The film has been aired on the US-based Lifetime TV channel, but Knox is trying to prevent its wider circulation.
Her lawyers say it could harm her appeal against conviction for Miss Kercher's murder in 2007 in Italy.
Miss Kercher's father, John, has called the film - entitled Amanda Knox: Murder on Trial in Italy - "horrific and distressing."
It recreates his daughter's death as well as moments from the ensuing trial of Knox and Italian student Raffaele Sollecito, who were accused of killing her during a "sex game".
'Upset'
In a civil hearing on Thursday, held behind closed doors, Knox's lawyer, Carlo Dalla Vedova, said the film had already aired on the television channel despite his attempts to prevent it.
He said it was also available on Lifetime's website, and on video streaming sites.
According to Mr Vedova, Knox told the court: "I'm upset over this invasion of my life, and for the speculation at my expense."
Earlier this year, Knox and Sollecito were granted a full review of the contested DNA evidence used to convict them - in particular a 30cm (12in) kitchen knife found in the kitchen of Sollecito's flat.
Mr Vedova argued that the appeal could be jeopardised if the film was widely circulated.
"Before, it was a threat of damage. Today there is ongoing damage," he said afterwards.
"It is today causing real damage to Amanda, to the Italian justice system and to her privacy."
He added that Lifetime had been summoned to appear in court at a later date.
Les Eisner, a spokesman for the channel's parent company, A&E Television Networks, said the network had no comment.
Miss Kercher, a Leeds University student from Coulsden, Surrey, was murdered when she was living in Perugia in 2007 as part of a year of study abroad.