Parole for French abortion plot music star Cheb Mami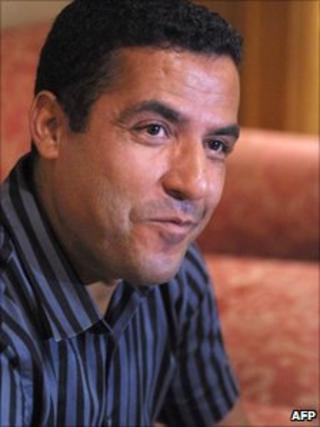 A singer jailed in France for abducting an ex-partner and trying to abort her child has been paroled after serving less than half his five-year sentence.
Mohammed Khalifati, an Algerian-born singer whose stage name is Cheb Mami, was freed on condition he did not discuss his case and stayed in France.
His victim, who was kidnapped while visiting Algeria in 2005, gave birth to a girl on her return to France.
Khalifati, 45, is credited with popularising Algerian Rai music.
His lawyer, Khaled Lasbeur, said his client was "mad with joy" at news he was to be paroled from his prison in Melun, near Paris.
An unnamed judicial source told AFP news agency that prosecutors had been satisfied that the risk of Khalifati reoffending was "limited".
Khalifati's victim came to Algeria believing she was on a business trip, a few days after telling him she was pregnant.
The court heard harrowing details of how she was drugged and taken to a villa in the capital Algiers where three people tried to abort her baby.
France issued an international arrest warrant for Khalifati after he skipped bail in Paris in May 2007 and fled to Algeria.
He later returned to France himself, saying he wanted to attend the trial, and was arrested at Orly airport.
'Serious mistake'
Initially, he denied involvement in the attack on his former partner, arguing that he was being persecuted because he was a successful Arab star.
But during the trial he expressed remorse and asked for the woman's forgiveness.
He broke down in tears and admitted making a "serious mistake" but said he did not love the woman and had felt "trapped" when she told him she was pregnant.
Cheb Mami blamed his former manager Michel Lecorre - also known as Michel Levy - saying he was behind the plot.
Lecorre was sentenced to four years for plotting and organising the assault.
Two of the singer's aides, Hicham Lazaar and Abdelkader Lallali, were convicted in absentia of involvement in the case, and sentenced to three and six years in jail respectively.