Spain's jobless turn to dole website Parobook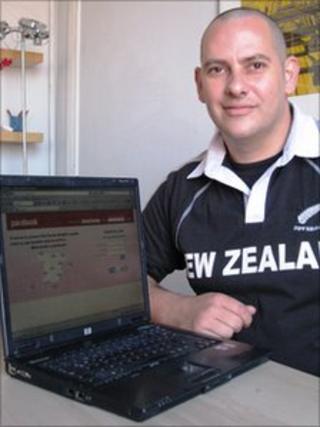 An out-of-work gardener in Madrid has founded a social networking site for the unemployed, modelled on Facebook.
The homepage of David Manzanero's Parobook ("dolebook") is very similar to its better-known predecessor.
But while Facebook users swap messages, cheery holiday snaps and video clips, Parobook members have so far been more inclined to exchange tales of woe.
Spain has 4.3 million registered unemployed, 20% of the workforce. The number is 40% among young Spaniards.
The site's creator is one of those statistics. He has had no steady gardening work for three years and is becoming desperate.
As well as putting workers and employers in direct contact, David hopes Parobook can function as a skills exchange for its users.
"For example, if someone can offer advice on writing CVs they can share it with everyone," he explains, suggesting they receive some other benefit from the site in return.
"In other places you have to pay. But our focus is to help the worker, so this has to be free."
Teething problems forced Parobook to switch server; its search engine is still "in development" and - crucially - very few companies have yet registered to offer employment.
David freely admits he is more used to mowing lawns than managing websites. So he has posted appeals for help from other, more technologically savvy users to improve things.
In the meantime, he has a proposal of his own: to create an online "psychological support" centre, again staffed by volunteers.
"I've spent nights without sleeping, when I could not close my eyes for a moment for worrying," David admits, describing his own mood as "rock bottom".
"There's no work, I have a 13-month-old child, and I have to pay the mortgage. All that just eats away at you."
'Useless idiots'
It is a familiar feeling, judging by postings on Parobook. With every job offer in Spain now heavily oversubscribed, knock-backs and rejection have become a depressing way of life.
The government calculates that the economy won't create new jobs until it is growing at over 2% and that still looks a long way off.
One Parobook user proposes creating a new political party to oust what he calls the "useless idiots" in parliament whom he blames for Spain's protracted and painful economic crisis.
"My mood's not good," confides another, called Sara - an unemployed administrative worker, who's 24. "I am very despondent and don't know what to do. Here's hoping for some luck!"
Like David, Miguel describes himself as "desperate" in a post on his Parobook page.
"The crisis has hit me hard," he told the BBC. He has worked as a gardener, waiter and painter among other things, but has been unemployed for three years now.
"I have no work, no job and no house. It's very depressing. People turn away from you when you are in this state, but they don't realise they could easily be in the same boat."
That's where David hopes his network can step in.
"This is somewhere people can meet others, bring ideas to the table, develop their own projects," he says. "The future of the site will depend on the demands of its users."
More than 10,000 people have already signed up including cleaners, chemical engineers and truck drivers. It's just a handful of Spain's vast army of the unemployed.
"If one day someone can say they found a job through Parobook," David says, hopefully, "then that would be great."