EU envoy defends Bahrain police amid unrest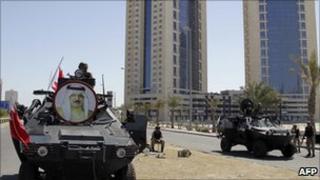 A top EU diplomat says the police in Bahrain have had a "difficult task" dealing with opposition protesters and in such situations "accidents happen".
Robert Cooper, special adviser to EU foreign policy chief Baroness Ashton, was briefing Euro MPs about his fact-finding visit to Bahrain last weekend.
Bahrain's Sunni Muslim king called in Saudi and Emirati forces last week to help quell Shia-led demonstrations.
The harsh crackdown has claimed several lives and dozens are reported missing.
Mr Cooper, a veteran British diplomat, said that "the exceptional nature of recent events is part of the problem, because... it's not easy dealing with large demonstrations in which there may be violence.
"It's a difficult task for the policemen, it's not something we always get right in Western countries, and accidents happen.
"The authorities did at one stage apologise for the way the police had handled events.
"It's wrong to suggest that only violence has been from the police and the authorities. Undoubtedly there has been violence by some demonstrators and the deaths of at least two policemen."
Last week Bahraini riot police sealed off the main hospital and some smaller health centres in the capital Manama, and rights activists said medics were being beaten as they tried to help the wounded in the streets.
The UN High Commissioner for Human Rights, Navi Pillay, voiced concern at "reports of arbitrary arrests, killings, beatings of protesters and of medical personnel, and of the takeover of hospitals and medical centres by various security forces.
"This is shocking and illegal conduct," she said last Thursday.
Earlier, the government said it had taken over the hospital because it had become a stronghold of the opposition.
Mr Cooper said the 1,500 troops from Saudi Arabia and the United Arab Emirates had been invited in to guard key installations. They were "not visible" and had "not participated in riot control", he said.
Normally Bahrain is "a rather pleasant, peaceful place", he said, voicing alarm at the current polarisation and "lack of dialogue" there between the ruling royal family and Shia Muslim majority.
But he praised proposals for dialogue from Bahrain's Crown Prince Sheikh Salman bin Hamad al-Khalifa as "absolutely admirable".
Diplomat criticised
Some MEPs in the European Parliament's foreign affairs committee criticised his view of the crisis.
The left-wing Spanish MEP Willy Meyer accused the EU's new External Action Service (EEAS) of failing to speak up for Arab activists pushing for political reform in the Gulf region.
He told Mr Cooper: "What you're saying doesn't get us credibility... we're in an indefensible position in the Arab world vis-a-vis double standards."
Franziska Brantner, a German MEP in the Greens/EFA group, said "Saudi troops marching in - that's not 'accidents happen'.
"What are your measurements here? I really find this very scary."
The BBC's Bill Law reports that Bahrain's National Security Apparatus (NSA) has raided the homes of prominent human rights and pro-democracy activists, in a drive to stop them speaking to foreign media.