Polar bear Knut died of brain damage, tests suggest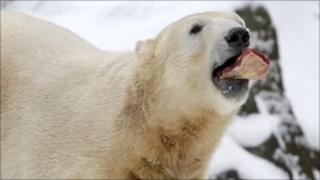 German polar bear Knut probably died of brain damage, a post-mortem examination suggests.
Berlin Zoo said in a statement a preliminary necropsy conducted on Monday revealed "significant changes to the brain, which could be seen as the reason for the sudden death".
It said no other organ damage had been seen; more tests are being done.
Knut, who was four years old, died suddenly on Saturday while sunbathing at the zoo in front of visitors.
Knut was hand-reared by zoo keepers after being rejected by his mother, a former circus bear from the former East Germany.
Knut has generated more than 5m euros (£4.4m; $7m) in extra income for Berlin zoo since his birth, in a phenomenon known as Knutmania.
Fans of the bear have started collecting donations for a memorial to the bear.
"Knut will live on in the hearts of many visitors, but we want to create something lasting for generations to come with this memorial, so that the uniqueness of this animal personality will endure," the chairman of the Friends of the Capital Zoos, Thomas Ziolko, said.