'Nazi' John Demjanjuk faces possible six-year jail term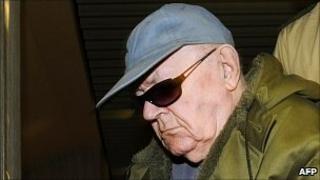 German prosecutors have called for a six-year jail term for John Demjanjuk, saying there is "no reasonable doubt" that he participated in the Nazi slaughter of Jews in World War II.
The 90-year-old is accused of having helped to murder 27,900 Jews at the Sobibor death camp in Nazi-occupied Poland in 1943.
A verdict is expected in May. Mr Demjanjuk denies the charges.
Born in Ukraine, he was extradited to Germany from the US in 2009.
The prosecution alleges that he was among Ukrainian guards called "Trawniki" - Soviet prisoners-of-war recruited by the SS to help murder Jews at the death camps.
Time already served
An estimated 250,000 people died in the gas chambers at Sobibor. Mr Demjanjuk allegedly was one of the guards who herded them to their deaths.
Prosecutor Hans-Joachim Lutz said Mr Demjanjuk had participated willingly in the Holocaust.
Speaking in the Munich court on Tuesday, he said there was "no reasonable doubt" that Mr Demjanjuk had served at the camp.
Mr Demjanjuk insists that he was forced to help the Nazis and had no choice.
Under German law the crimes he is accused of could be punished with 15 years in prison, but Mr Lutz said a shorter term was appropriate in this case as Mr Demjanjuk had already spent eight years in detention in Israel.
In the 1980s an Israeli court identified him as "Ivan the Terrible", a notoriously sadistic guard at the Treblinka death camp. But that ruling was overturned after new evidence showed that another Ukrainian was probably responsible.