Post-mortem examination on polar bear Knut in Germany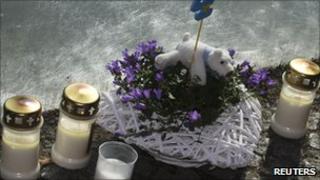 A post-mortem examination is being carried out on world-famous polar bear Knut who died suddenly on Saturday.
Knut died while sunbathing at Berlin zoo in Germany in front of visitors.
The four-year-old swivelled around several times before falling backwards into the water in his enclosure.
Knut was hand-reared by zoo keepers after being rejected by his mother, a former circus bear from the former East Germany.
There has been speculation that Knut died from stress relating to three female bears in his enclosure as in captivity polar bears can live to the age of 30.
Zoo director Bernhard Blaszkiewitz rejected claims of a stress-related death, according to the German news agency DPA.
"The exact cause of death has not yet been established, but it's quite clear that Knut didn't die in a situation of stress," Mr Blaszkiewitz said.
Visitors to the zoo have complained that he was bullied and shunned by the three female bears, German news agencies report.
"That was only early on - for a long time they have been chasing each other and playing together, and that was the case on the day he died too," Mr Blaszkiewitz said. He added that visitors had previously been concerned that the bear was lonely.
Mr Blaszkiewitz said the polar bear may be preserved and displayed at Berlin's Natural History Museum, DPA reports.
Knut has generated more than 5m euros (£4.4m; $7m) in extra income for Berlin zoo since his birth, in a phenomenon known as Knutmania.