Turkey orders Iranian plane to land at Diyarbakir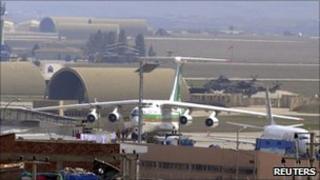 An Iranian cargo plane flying to Syria was ordered to land in south-eastern Turkey amid reports it may have been carrying military material.
A lengthy search at Diyarbakir airport found "nothing illegal" on board, officials said. The plane was allowed to leave on Wednesday afternoon.
The Russian-built plane was said to be heading from Tehran to Aleppo when it was told to land on Tuesday night.
Turkey's foreign ministry denied it had been forced down by two F16 fighters.
Anti-nuclear, biological and chemical search teams boarded the plane on Wednesday, checking it for hazardous substances.
The plane was said to have been operated by a private company and had two pilots and an unspecified number of crew on board.
Iranian arms exports and trade in "sensitive nuclear material" are subject to a UN arms embargo because of Tehran's refusal to halt its uranium enrichment programme.
A few hours before the cargo plane was ordered to land, Israeli naval commandos operating in international waters in the Mediterranean seized a ship which the navy said had been carrying Iranian arms bound for militants in Gaza.
The ship, the Victoria, was said to have sailed from the Syrian port of Latakia via Mercin in Turkey before heading to Alexandria in Egypt.
Israeli officials said neither Turkey nor Egypt had any idea of the cargo, and the crew was not aware of its contents either.
The Victoria was escorted to the Israeli port of Ashdod where thousands of bullets and mortar shells as well as anti-ship missiles were put on display next to the ship on Wednesday.
Iran has denied any connection to the incident.