Berlusconi had 13 sex acts with Ruby say prosecutors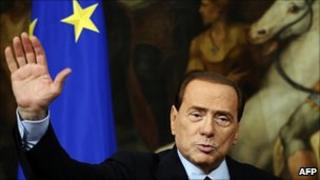 Prosecutors say Italian PM Silvio Berlusconi paid for sex 13 times with Karima El Mahroug, also known as Ruby, when she was still 17, reports say.
They have filed a document requesting indictments against three of the prime minister's associates for allegedly soliciting prostitutes for him.
They allege that 33 women took part in erotic parties at his villa near Milan.
Mr Berlusconi, who faces trial on 6 April, has condemned the latest allegations as "without sense".
He denies having sex with an under-age prostitute and abuse of power. Ms Mahroug denies having sex with the Italian leader.
Prostitution is not a crime in Italy, but paying for or helping arrange sex with a prostitute under the age of 18 is an offence.
The three associates under investigation are TV presenter Emilio Fede, celebrity agent Lele Mora and Nicole Minetti, a local councillor and former showgirl.
The prosecutors are calling for a separate trial against them, Italian media say. They allege that the first contact with Ms Mahroug was when she was spotted at a beauty contest in Sicily while she was still 16. She took part in dinners at the villa from February 2010 when she was 17, they say.
'Carefree dinners'
According to the reports, the document states that the parties started with "masks, stripteases and erotic dances" and ended with Mr Berlusconi engaging in "intimate relations" with one or more women.
The prosecutors allege that Mr Mora and Mr Fede selected the women while Ms Minetti arranged their transport and payments.
In an interview with La Repubblica, Mr Berlusconi complained that the 33 girls whom prosecutors in Milan have "pushed into the limelight... will spend the rest of their lives marked by the taint of prostitution".
"The reality is they were girls whose only fault was to take part in a meal with the prime minister," he said, adding that "carefree, elegant dinners" had given way to "incredible stories".
He also promised to appear on TV and explain everything as well as go to all the court hearings.
He said if he had done what the prosecutors had alleged, his girlfriend would have torn his eyes out.
"The truth is that justice of these people is without sense."