Italy blocks ferry of Moroccans fleeing Libya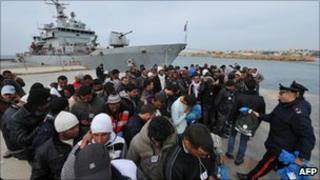 Italy has prevented a ferry carrying 1,800 people, mainly Moroccans fleeing the fighting in Libya, from docking in Sicily.
The ship had sailed from Tripoli and asked for permission to refuel on the island after being refused entry to Malta, Italian media said.
Meanwhile, 41 people are feared drowned after a boat carrying migrants capsized off Tunisia, UN officials say.
Five were rescued by another boat heading to the island of Lampedusa.
Since Monday, 21 boats have arrived on the Italian island from Tunisia carrying 1,600 migrants.
The boat which went down at around midnight on Sunday night, three hours after leaving the southern port of Zarzis, had been carrying 41 men and five boys.
"We talked to the five survivors in Lampedusa," UN refugee agency spokesman Federico Fossi told the BBC News website.
"They were in the water for eight hours. They saw one boat passing by but it didn't stop. The other one that rescued them had 45 people on board. That was also in distress and that was rescued by a military ship."
UN officials estimate that more than 10,000 Tunisians have arrived in Lampedusa since the downfall of President Zine al-Abidine Ben Ali two months ago.
Marine Le Pen, the leader of the French far right National Front party, who has just visited the island, told reporters in Rome on Tuesday that the news of the sinking confirmed her belief that the migrants should not be allowed to stay in Europe.
She said: "If we encourage illegal immigration, if we authorise illegal immigrants to set foot on European soil, how many more will embark on these adventures and how many more will lose their lives?"
Italian orders
The Mistral Express ferry that sailed from western Libya is now approximately 150 miles from the port of Augusta on Sicily's east coast.
It was blocked from sailing closer into Italian waters on the orders of the Italian interior ministry, officials said, while they found out who was on board and what their intentions were.
The ferry is understood to be carrying 1,715 Moroccans, 35 Algerians, 26 Egyptians, 7 Tunisians and other people from Mali, Sudan, Syria and Mauritania.
The boat was said to have been chartered by the passengers who had been working in Libya at the time of the revolt against Col Gaddafi.