Renault spy scandal risks denting carmaker's reputation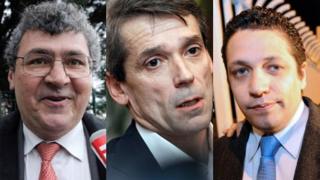 An investigation into industrial spying at the French carmaker Renault has collapsed into farce and recrimination, with an apology to three top executives and the arrest in Paris of one of the company's own security officials.
Two months after the executives were sacked for supposedly selling secrets about its electric car programme, Renault issued a statement emphasising that it was committed to restoring "their honour in the public eye".
The statement came shortly after the arrest of former defence intelligence officer Dominique Gevrey, as he boarded a plane for the west African state of Guinea.
On Sunday evening he was placed under judicial investigation for organised fraud. His lawyer insists he is innocent and has accused Renault of "paranoia".
Paranoid and dysfunctional
The consequences for Renault could be very serious.
Up to a few days ago the company was claiming to be the victim of a foreign predator, anxious for details of its much-vaunted electric technology.
Now Renault management has been exposed as reckless, paranoid and dysfunctional and the company's international image has been dealt a body-blow.
The Renault affair has grown into one of those classic scandals - mixing industry, media, politics, the intelligence services, money and disinformation.
And, in typical French fashion, it all started with what is practically an institution here: the poison-pen letter.
Last year, someone began sending anonymous notes, alleging that top members of Renault's electric car team were taking bribes.
Three men were dismissed: Michel Balthazard, director of advanced engineering; his deputy, Bertrand Rochette; and Matthieu Tenenbaum, deputy director of the electric cars division.
Electric car espionage
Renault ordered its internal security team to open an investigation. It, in turn, called for help from an employee of the international risk-assessment company Geos. On 3 January the story broke, and the three men were ordered to vacate their offices.
In the following days they were formally sacked, as Renault filed suit for "theft, breach of trust … and industrial espionage".
France's domestic intelligence agency DCRI opened its own investigation, while the French government - which owns 15% of the carmaker - openly expressed annoyance at not having been kept informed.
Facts were thin on the ground, but the allegation was that the three executives were paid money into bank accounts in Switzerland and Liechtenstein.
In return they allegedly handed over secrets about Renault's 4bn euro (£3.5bn: $5.6bn) electric car plan - a plan that chief executive Carlos Ghosn believes places Renault well in advance of the competition.
The supposed beneficiaries of the spying were never identified. China was suspected, but there was no evidence. And that was the problem. There was no evidence of anything.
As the three suspects loudly protested their innocence, during the month of February the enquiry gradually dismantled the charges against them.
First the DCRI established that the numbered accounts in Switzerland and Liechtenstein did not actually exist.
Then it discovered that the source of the allegations was a single anonymous informer. This man's identity was known only to Renault's internal security official Dominique Gevrey, and he refused to divulge it.
Finally last week, it emerged that the anonymous informer had already been paid some 250,000 euros by Renault. And he was demanding 900,000 euros more for written proof of what he claimed.
Renault duped
Events gathered pace over the weekend as Mr Gevrey was detained as he tried to leave for Conakry. Two other senior officials were questioned, including Renault's head of security Remi Pagnie, before being released.
More information will come out in the coming days, but it is now clear that Renault has been made a dupe.
Here are some of the questions that need answering.
Who is the anonymous informer? Or does he even exist?
Why did Carlos Ghosn and chief operating officer Patrick Pelata go public so quickly about the affair, when the evidence was so flimsy?
Was the motivation for the scam simply to extort money? Or could it all have been an elaborate plan to destabilise the company - a plan that we can now see has been remarkably effective?
The fall-out from the affair will be serious. Carlos Ghosn - who is also chief executive of Renault's Japanese partner Nissan - put his reputation on the line in successive interviews over the affair.
"Of course we are sure. If we weren't sure, we wouldn't be where we are," he said at one point. And: "We're not amateurs. We didn't just invent it all, you know."
If Mr Ghosn is too important to take the rap - he personally embodies the vital link with Nissan - Mr Pelata's position seems much more exposed.
Indeed he implied as much last week. Admitting for the first time that Renault could have been the victim of a "manipulation", he said the company would "draw the necessary conclusions; right up to the top, ie me".
As for the three real victims of the scandal, they may well launch costly legal proceedings for breach of contract and defamation. Renault will be obliged to offer them their old jobs back. But it is highly unlikely that they will take them.
"Working again in that atmosphere, with all those people who were so utterly convinced that I was guilty? I don't think so," said Michel Balthazard.