London gets EU reprieve over air pollution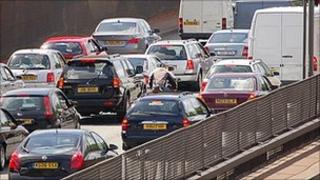 The UK has been given three more months to meet EU air quality standards in Greater London.
The European Commission says the UK government must show that it is acting to curb emissions of tiny airborne particles called PM10.
Last June the Commission gave the UK a "final warning" over air pollution in Greater London and Gibraltar, but now it says Gibraltar is within the limits.
Big fines can be levied if countries are found to have breached EU law.
The Commission says PM10, emitted mainly by industry, traffic and domestic heating, can cause asthma, cardiovascular problems, lung cancer and premature death.
It is up to the UK to decide what action to take to cut PM10 levels in London. It could reduce traffic in congested areas where PM10 is above EU limits, or target construction work, ships at berth, industrial plants or domestic heating.
A spokesperson for London Mayor Boris Johnson welcomed the Commission's decision on Friday as "recognition of the serious steps that the mayor has taken to reduce PM10 pollution...
"We have robust, sensible and proportionate measures in place to reduce pollution levels."
The measures include a dust suppressant trial, encouraging low and zero emission vehicles, taxi age limits and a hydrogen-fuelled bus service.
EU infringement procedures have been opened against 20 of the EU's 27 member states over air quality.
Two countries - Slovenia and Sweden - have been referred to the European Court of Justice over their PM10 levels.
The infringement actions follow the entry into force of a new EU Air Quality Directive in June 2008.
Last year a scientific study commissioned by the London mayor estimated that air pollution was responsible for 4,267 early deaths in the UK capital, through long-term exposure.