Libya: Dutch helicopter crew freed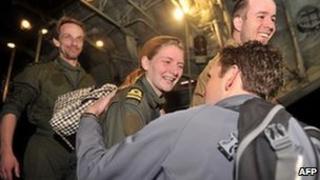 Libya has freed the crew of a Dutch navy helicopter captured on a botched mission to evacuate civilians near the Gaddafi stronghold of Sirte last month.
The two men and one woman arrived in Athens on a Greek military transport plane hours after a son of Muammar Gaddafi announced their release.
Saif al-Islam Gaddafi said Libya would hold on to the crew's Lynx helicopter.
The woman pilot, Yvonne Niersman, took part in a mission last year to free a German ship from Somali pirates.
Ms Niersman and her fellow crew members were captured in Libya after flying in from the Dutch warship Tromp, anchored off the coast.
'Treated well'
"I am very happy," she said after landing in Athens and being met at the airport by a Dutch foreign ministry representative.
She and her two fellow crew members appeared to be in good health.
Dutch Defence Minister Hans Hillen said the crew would be flown back to the Netherlands soon, adding that they had been treated "well and correctly" during their captivity.
Speaking on Thursday, Saif Gaddafi had said: "We told them, don't come back again without our permission.
"We captured the first Nato soldiers, we are sending them back home. But we are still keeping their helicopter."
During the earlier mission involving Ms Niersman, 10 pirates were captured after a gun battle off the coast of Somalia. A Dutch marine suffered light injuries in the shooting.