Azerbaijan clamps down on protesters ahead of rally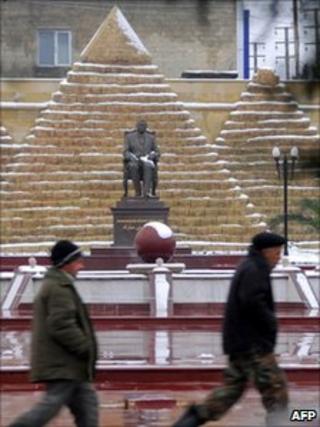 Azerbaijan's authorities have arrested a number of political activists ahead of protests that appear to be inspired by events in the Arab world.
The call to take part in anti-government demonstrations on Friday was made on Facebook.
Political activity and the media are tightly controlled in the oil-rich former Soviet republic.
The government appears nervous that the Middle East unrest might revitalise a largely ineffectual opposition.
'Very nervous'
The string of arrests began this month with the authorities targeting selected youth activists who are associated with opposition parties or who are active in the social media scene.
Police have given a variety of reasons for detaining the men, ranging from draft-dodging to public order offences.
But supporters of the activists say the arrests are linked to the call for nationwide protests against the government made on Facebook under the headline "11 March - Great People's Day in Azerbaijan".
Emin Milli is an Azerbaijani blogger whose arrest two years ago caused an international outcry.
He too was accused of public order offences but maintains that he was jailed for posting videos online which mocked the government.
Mr Milli, freed last November, says that the latest events betray a government ill at ease
"I think the ongoing arrests show that the government is very nervous about the potential of the recent Middle East unrest, the possible influence on Azerbaijan," he told the BBC.
"But I think it's an error of the system, because they started to arrest people who will bring even more world attention, international media attention, to what is happening in Azerbaijan."
More than 3,500 people have supported the website which bears the slogan "We are on the road of democracy and intend to follow this road till the end."
But it is another question how many will actually turn out, if at all, and where, the BBC's Johannes Dell reports.
'Limited progress'
Only one of the authors of the web page lives in Azerbaijan and he has been jailed for a month.
The authorities have promised to move resolutely against any unauthorised protests.
There have been reports of security forces undergoing drills and one government spokesman was quoted as accusing protest organisers of working for foreign interests.
Emin Milli believes the authorities will have to respond with reforms eventually.
"I think it is important that the government and everyone in our society draws lessons from what has happened in Middle East," he said.
"And if any authoritarian country doesn't understand the current world trends, they will face these protests over and over again."
Observers say the Azerbaijani government has taken some action following the unrest in the Middle East.
They point to a high-profile anti-corruption campaign, including a recently installed hotline to report specific incidents.
But government critics say the measures go not far enough.