Dozens held in anti-mafia raids in Italy and Germany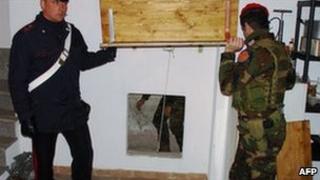 Police in Italy and Germany have arrested 35 people in an anti-mafia operation, with warrants also issued in Canada and Australia.
The operation targeted the 'Ndrangheta, one of the most powerful global crime syndicates, which specialises in trafficking illegal drugs.
One of those arrested was found hiding in a bunker near his house in Calabria, Italian police said.
An Italian minister said the operation was "an extraordinary success".
The Calabria-based syndicate is believed to be the most powerful mafia in Italy, thanks to its hold on the European cocaine trade.
It has carried out many vendetta killings in recent years including the massacre of six men in Duisburg, Germany, in August 2007, Italy's Ansa news agency said.
Those arrested on Tuesday are suspected of crimes including robbery, murder, drug trafficking, protection rackets, money laundering and possession of arms and explosives.
'Central structure hit'
Negotiations had to be held to persuade the man found in the bunker to come out, Calabrian police spokesman Carlo Pieroni told AFP news agency.
"We surrounded his house, which was in the countryside," he said.
"He hid in a bunker under the house and we negotiated to get him out and arrest him. We didn't want to go in with pneumatic drills to dig him out."
During the raids in Calabria, evidence was found that 'Ndrangheta groups had influenced elections in and around Reggio, Ansa reports.
Six people were arrested in Germany while three warrants were issued in Canada and two in Australia, police said.
Mr Pieroni said the suspects detained outside Italy were accused of recycling illicit funds from Italy in shops and small construction businesses.
"We have hit at the central structure of the 'Ndrangheta," the police spokesman added.
"The 'Ndrangheta is on the brink or at least it will be forced to re-organise."