Turkey 'coup plot': seven jailed in Ergenekon inquiry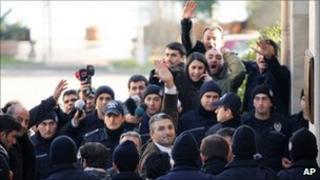 A Turkish court has sent to jail a writer and six journalists in the past two days over their roles in an alleged plot to overthrow the government.
Prosecutors say a hardline nationalist group tried to bring down PM Recep Tayyip Erdogan's government in 2003.
Four hundred suspects are already on trial in the so-called Ergenekon case.
Two leading investigative journalists were put in jail on Sunday. On Monday, government critic Yalcin Kucuk and four more journalists were imprisoned.
All seven were picked up in raids on their homes last week which have raised alarm among the EU and media rights groups and prompted demonstrations by thousands of people in Ankara and Istanbul.
The Turkish Journalists' Association spoke of a "climate of fear" caused by the arrest of dissident journalists.
And critics have complained that the Ergenekon investigation has focused on opponents of Mr Erdogan's Islamist-rooted AK Party government.
But prosecutors insist the journalists have not been detained because of their reporting and the government has distanced itself from the arrests.
"It is unjust to accuse the government of limiting the press because of a judicial procedure," Turkish Interior Minister Besir Atalay told Anatolia news agency.
The two investigative journalists, Nedim Sener and Ahmet Sik, are both well known in Turkey. Mr Sener wrote a book that blamed security forces for the 2007 murder of ethnic Armenian journalist Hrant Dink. Ahmet Sik, who was one of the first journalists to report the existence of a plot, is already facing trial for a book about the Ergenekon group.
Their colleagues waited outside the court on Sunday until the men were sent to jail.
According to prosecutors, the plot involved plans for a series of bombings and assassinations aimed at destabilising the government and laying the ground for a coup.
The four journalists jailed by the court on Monday work for anti-government news website Oda TV, the owner of which was arrested along with two colleagues last month.
Parliamentary elections are due to take place in June, which the AK Party is expected to win.