Sevastopol: Russian fleet stirs passions in Ukraine
By Daniel Sandford
Moscow correspondent, BBC News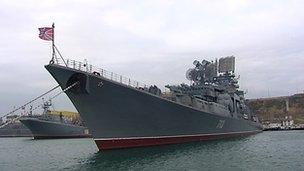 Last April the Ukrainian government signed an agreement allowing Russia's Black Sea Fleet to continue using Sevastopol as a base.
Amid angry scenes in the parliament in Kiev, it extended Russia's lease until 2042, in exchange for cheaper gas.
Walking around Sevastopol almost one year on, the Russian tricolour flies proudly from Navy buildings and private apartments, while the yellow and blue of Ukraine flutters over the city hall.
The dockyard cranes, also painted yellow and blue, tower over Moskva, the flagship of the Russian Black Sea Fleet.
Even at the World War II memorial, the Ukrainian wreaths seem to be competing to outdo the Russian ones.
It's all evidence that, despite the uneasy peace that reigns in Sevastopol, strong passions linger just beneath the surface.
A strategic military port
From the many viewpoints in the city you can look down on the inlets of the famous natural harbour.
Nestling in the shelter of the hills you can see the dark grey Russian ships, often moored alongside ships of the small Ukrainian navy.
Sevastopol was founded by Russia in 1783 and has remained an important strategic military port ever since.
In nearby Balaklava an extraordinary James Bond-style submarine cave was carved into the seacliffs.
But in 1954, when the Soviet Union seemed inviolable, the Crimean peninsula was transferred for administrative purposes from the Russian Soviet Republic to the Ukrainian Soviet Republic.
When Ukraine broke away from the Soviet Union in 1991 it took Crimea, and Sevastopol, with it.
The Soviet Navy split up. Officers had to decide whether to serve in the Russian Navy or the Ukrainian Navy.
One of those who chose to serve his native Ukraine was former Captain Vadim Makhno.
On a bluff overlooking the harbour he told me that he understood that Sevastopol was not very Ukrainian, but he explained that it was not in his countrymen's nature to give things up.
"I can't imagine a mechanism which will let Sevastopol become a part of Russia without blood being spilt," Captain Makhno said.
"Nobody here thinks seriously about attacking Russia, but to just give something away is impossible. The Russians need to think about whether they really need the fleet here."
But Sevastopol is a potent symbol for the Russian navy, and for politicians in Moscow.
They have bought themselves time by the agreement that allows them to use facilities in the city until 2042, but they have not bought a solution.
Vladimir Solovyov was a Rear Admiral in the Russian navy. He is retired now but still works in Sevastopol.
However he is not a Ukrainian citizen so he needs to leave the country and re-enter on a new migration card every three months.
Like many Russians he believes that one day Sevastopol will return to Russia.
"They understand in Ukraine that for Russia Sevastopol is not just another port, it is a symbol of Russia," he told me.
"Sevastopol can be a city of two countries but it is unthinkable without Russia."
There is no sign that Sevastopol is about to become a source of violent conflict like the one seen in Georgia in 2008.
But the issue is like a bomb on a slow fuse and at some point it will need to be resolved.