Spain speed limit cut over high oil prices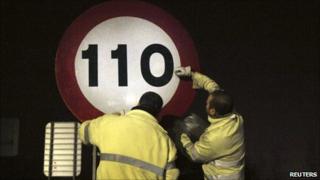 Spanish commuters have had to ease off the accelerator this morning on their drive to work, confronted with a new speed limit of 110km/h (68mph) on main roads.
Throughout Sunday and into the night, teams worked across the country to prepare for Monday's change - covering the old 120km/h (75mph) limit with stickers on 6,000 road signs.
The slowdown is intended to save energy in response to the surge in oil prices sparked by the unrest in Libya and elsewhere in the Arab world.
Spain is heavily dependent on imported fuel and 13% of its oil usually comes from Libya.
But the move is controversial.
Spain's Deputy Prime Minister Alfredo Perez Rubalcaba argues that it is a temporary and "exceptional" measure called for by an "exceptional situation" in Libya. The new limit will remain in effect until the end of June at the earliest.
But the minister denies that there is any shortage in the fuel supply to Spain. His argument is all about cost.
The government calculates that the reduction in road speed translates to a 15% saving on fuel and a considerable cut in Spain's energy bill.
"We are going to go a bit slower and in exchange we will consume less petrol and pay less money," as the minister put it.
Tapas
"There is a transfer of income from families to foreign countries, that's the problem," explains Ismael Sanz, economist at King Juan Carlos University in Madrid.
"If people are devoting a higher share of their income to imported fuel, then they're spending less buying Spanish products, going for tapas," Mr Sanz says. "That ends up costing jobs; everything is affected."
But he and many others are deeply sceptical about the government's maths - and its methods.
They point to studies suggesting that a 10km/h reduction in speed saves closer to 5% on fuel rather than 15%. The government's own figures suggest it could forfeit large sums in tax revenue due to the fuel savings. And the bill for changing the road signs for just four months runs to 250,000 euros.
Many Spaniards believe the change is a ruse to raise funds through more speeding fines.
The main opposition Popular Party has labelled the idea as "absurd" and "improvised", recalling that the last time Spain reduced the speed limit in such a way, dictator Gen Franco was in power.
"This measure is restricting the freedom of people who are not harming others," agrees Ismael Sanz, who believes the best way to reduce a driver's fuel consumption is to put the price up.
"We could ask: what next? Will the government make people go to sleep earlier to reduce their consumption of light?"
A weekend poll for El Pais newspaper put opposition to the speed cut at 69% and revealed the socialist government's own approval rating at an all-time low.
The uprising in Libya has already increased the price of oil, but not to intolerable levels. Spain's concern is that the turmoil could spread to other oil-producing countries and send the cost rocketing.
So it is taking precautions.
Alongside the emergency speed restriction, the government has approved a series of far less contentious measures for the medium and long term. Altogether, they are intended to cut the country's total fuel consumption by almost 5%.
The measures include subsidising the cost of energy-efficient car tyres, installing energy-saving light bulbs in small towns and a 5% cut in the price of tickets on commuter trains.
A public awareness campaign will alert people to the need to conserve energy.
Economists baffled
Other - more drastic - plans are in place should the supply of fuel actually be disrupted, forcing Spain to tap its strategic reserves.
But opting to reduce the motorway speed limit now baffles many economists, who see only an unwelcome brake on a still delicate economy.
"I would give this the gold medal of an absurd policy measure," says economist Professor Javier Diaz-Gimenez of the IESE business school in Madrid. "It makes no sense."
"It's hard to see how reducing speed limits will make a difference at all for the Spanish economy. If anything, freight and people will move at a slower speed; the Spanish economy will be less competitive," he argues.
Professor Diaz-Gimenez points out that the Dutch government recently raised the speed limit; the UK is considering the same to "get the economy moving", as well as waiving a planned tax rise at the petrol pump.
Only Spain has opted to go slower.
"I think the trains will be much fuller," says one rail commuter, Maria, who approves of the initiative to cut ticket prices to promote public transport.
"Let's hope they lay on more carriages though, or we'll be squashed!"
"I don't think many people will be influenced," shrugs Alberto, a few seats back. "People here are stubborn. Once they're used to something, like driving, they don't change their habits."
Former F1 champion Fernando Alonso raced into the debate last week, declaring that it was harder to stay awake at the new, reduced speed limit.
The government has shrugged that off.
But it clearly has its work cut out to convince Spaniards that taking their foot off the accelerator or taking the train can really help this economy.