Spain town reintroduces peseta to boost economy
By Sarah Rainsford
BBC News, Madrid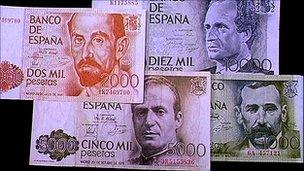 A small town in northern Spain has decided to reintroduce the old Spanish currency - the peseta - alongside the euro to give the local economy a lift.
Shopkeepers in Mugardos want anyone with forgotten stashes of the old cash at home to come and spend it.
It is nine years since the peseta was official currency in Spain.
But Spain's economic crisis has forced some to be inventive. The hard times have seen thousands of businesses close and more than two million jobs go.
More than 60 shops in Mugardos, a small fishing town in Galicia on Spain's northern coast, are accepting the peseta again for all purchases, alongside the euro.
It is an attempt to get cash registers ringing - and help lift the town out of a long and painful economic slump.
Shopkeepers were sceptical at first, but they now say the scheme is a great success.
People are travelling into Mugardos from outside just to spend the old currency they never got round to converting.
One man visited the local hardware store this week with a 10,000-peseta note he had found at home, and had no idea what to do with.
He is now the happy owner of a sandwich toaster.
The euro was introduced here in January 2002.
Spaniards then had another three months to exchange their old currency at any bank.
That cash can still be converted today, but only at the Bank of Spain itself, and it says a staggering 1.7bn euros ($2.4bn) of cash is still unaccounted for - stashed, perhaps, then forgotten; piles of coins that slipped down the backs of sofas; or even big notes kept by collectors.
That is the reserve the shopkeepers of Mugardos are hoping to tap and give a desperately needed boost to business.
Still, the Bank of Spain estimates that almost half the country's millions of missing pesetas will never be recovered - despite their value.
It believes many left the country long ago, in the purses and pockets of tourists.
Are you in Mugardos? Do you think this idea could help other eurozone countries? Leave your comment below.