New migrant boat lands in Italy from Tunisia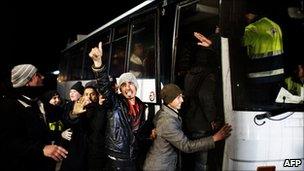 A boat carrying 347 illegal migrants from Tunisia has reached Italy, raising fears of a new wave of crossings after a week of bad weather.
The fishing boat brought the migrants to the tiny island of Lampedusa, less than 160km (100 miles) across the Mediterranean from the Tunisian coast.
Thousands have arrived since mid-February, amid unrest in Tunisia.
Italy's Interior Minister, Roberto Maroni, said there were fears of illegal migration from Libya too.
There were, he said, 1.5 million illegal migrants inside Libya.
"They are now fleeing to the west [Tunisia] and to the east [Egypt] but I expect in the future they could also head north [towards Italy]," he told parliament.
Mr Maroni, a member of the anti-immigration Northern League, warned of a "catastrophic humanitarian emergency" when he met fellow EU interior ministers in Brussels last week.
Other EU officials said Rome was over-reacting to the crisis across the Mediterranean.
Bad weather and resumption of Tunisian naval patrols had been discouraging migrants from making the journey.
Those who arrived early on Wednesday were mostly Tunisians, Italian officials said, but they also included two German TV journalists, who had filmed the crossing.
The Germans were questioned by police and released.
Four women were also among the migrants.
Italian police placed the migrants in a reception centre, officially designated a "centre for identification and expulsion", which is still housing migrants from the wave which arrived last month.
They will be screened to see if they are asylum applicants or simply economic migrants looking for jobs.
If it is the latter, they will eventually be sent back to Tunisia.
Italy says a huge number of people could be heading in its direction from North Africa and it wants other European countries to help share the burden.
Related Internet Links
The BBC is not responsible for the content of external sites.