Greece hunger strike migrants taken to hospital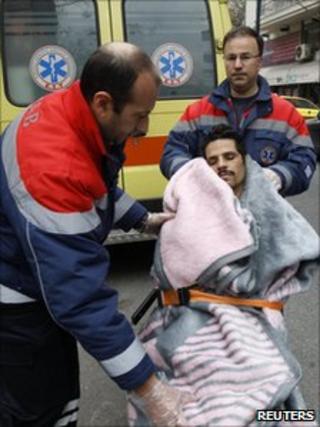 Up to 50 migrants are being given hospital treatment, almost five weeks after going on hunger strike in Greece.
More than 280 migrants in Athens and Thessaloniki began the hunger strike in late January, calling on Greece to give them residence permits.
Some of the migrants were being treated for acute kidney failure, Greek media said.
As supporters gathered outside the Greek parliament in Athens, there were reports of minor scuffles with police.
An immigrant support network said many of the strikers, most of them from North Africa, had stopped taking water.
"There is no room for waiting or negotiation, tomorrow one of them could be dead," Stratis Plomaritis, a doctor in the second city of Thessaloniki told the ANA news agency.
The hunger strikers, many of whom have lived and worked on the Greek island of Crete for years, have attracted the support of unions, human rights organisations and a number of academics.
At least 350,000 migrant workers in Greece are without residence permits, which are required for access to social insurance payments.
But the number of unemployed migrants has risen as the national jobless rate has climbed to almost 14%. The country has been hit by a deep recession and severe austerity measures imposed because of last year's 110bn euro (£93bn) EU/IMF bail-out.
Greece has become the busiest gateway for immigrants trying to enter the European Union. According to government figures, 128,000 migrants arrived in Greece illegally in 2010, about 90% of the total EU number.
The Greek government has refused to legalise all the migrant workers but said this week it would consider easing residency regulations.