Fine Gael and Labour Irish coalition talks end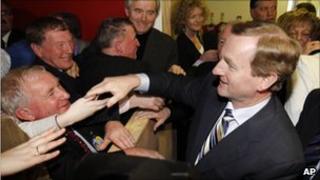 Coalition talks between Fine Gael and Labour, the two largest parties in the Irish Republic, have ended
It is understood the two party leaders, Enda Kenny and Eamon Gilmore, are now engaged in talks with senior members and officials from their parties.
Subsequent meetings will see the negotiating teams from Fine Gael and Labour sit down across the table.
It is expected a deal will be done in time for a special Labour Party conference next weekend.
The Fine Gael negotiating team is Phil Hogan, Michael Noonan and Alan Shatter.
The Labour Party team is Joan Burton, Pat Rabbitte and Brendan Howlin.
The Labour Party Whip, Emmet Stagg, said he had no doubt the two parties would be able to come up with a programme for government in a short time.
Taoiseach Brian Cowen wished the leaders of Fine Gael and Labour well in their talks.
Formal discussions may begin later on Monday evening or on Tuesday, with an effective deadline of the weekend.
Meanwhile, Sinn Fein said it could add two additional seats as vote-counting continues in three constituencies.
The party currently has 13 seats and could gain an two extra TDs in the constituencies of Laois/Offaly and Wicklow.
Fine Gael is on course to win about 75 seats in the new parliament - just short of enough to form a majority single party government.
Labour leader Eamon Gilmore said he had not been contacted by Fine Gael, but said his party would be open to discussions.
"If Fine Gael want a government for a period of five years, strong, stable that brings together the two largest parties, in what will be the closest we're going to get in this country to essentially a national government, the Labour Party is willing to play its part in that," Mr Gilmore said.
"But I do say that the window of opportunity for that to happen is very narrow.
"I believe that a government needs to be formed on the first day the Dail is back which is 9 March.
"So really there's about a week in which a programme for government can be put together."
Fine Gael leader Enda Kenny, who is set become the next Irish prime minister, said he hoped a coalition could be agreed quickly.
"We don't want a situation where this is going to be dragged out," he said.
On Sunday, Mr Kenny promised to work to renegotiate the country's crippling 85bn euro bail-out next week.
Mr Kenny also spoke with British Prime Minister David Cameron on Sunday night.
A Downing Street spokesperson said Mr Cameron had invited Mr Kenny to Number 10.
The ruling Fianna Fail party suffered a crushing defeat in the election, with high profile casualties including deputy prime minister Mary Coughlan and tourism minister Mary Hanafin.
Thirty-four outgoing Fianna Fail TDs failed to be re-elected, while its coalition partner, the Greens, lost all six of its seats.