Swiss gun culture comes under fire
By Imogen Foulkes
BBC News, Geneva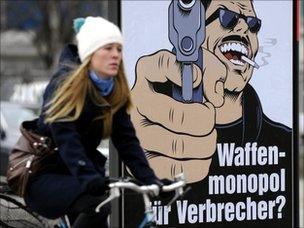 Voters in Switzerland will go to the polls on Sunday to decide on proposals aimed at restricting gun ownership.
If approved, the proposals would end the long tradition of Swiss men keeping their army weapons at home after they finish their compulsory military service.
In addition, gun owners would have to register their weapons, and prove they know how to use them.
Supporters of the proposals say more gun control would reduce suicides and gun crime.
Opponents argue that storing army weapons in arsenals rather than in the homes would show a lack of trust in the military.
There are an estimated two to three million guns circulating in Switzerland, but no-one knows the exact number because there is no national firearms register.
In addition to the semi-automatic assault rifle that all those serving in the army store at home, there are thousands of hunting rifles and pistols.
Shooting is a very popular sport in Switzerland, with most towns and villages having a shooting club that meets for target practice at least once a week.
And although Switzerland's overall crime rate is low by European standards, supporters of greater gun control point to high levels of suicide using guns.
Chantal Gallade, an MP and gun control campaigner, has personal experience of this.
"I was 11 years old when my father shot himself with his army gun," she said.
"This is a reality in Switzerland, it happens a lot, and that's why I have talked openly about my experience.
"I have had many letters and emails from others who have had to go through the same thing, but who never felt they could speak about it because it is such a taboo here."
Over the years, a number of high-profile killings have lent support to those calling for greater gun control.
In 2001, a disgruntled local man shot dead 14 people in the Swiss town of Zug.
In 2006, Swiss ski star Corinne Rey Bellet was shot by her estranged husband.
He used his officer's pistol to kill her; he also shot and killed her brother, and seriously injured her mother, before finally turning the gun on himself.
The campaign to store army weapons in secure arsenals is backed by the Swiss Medical Association (SMA), whose members argue the measure would reduce suicides and other gun-related violence.
The association's president, Jacques de Haller, believes the practice of keeping army weapons at home - introduced in World War II - is, nowadays, a dangerous and outdated concept.
"We have statistics which show that young men commit suicide with the military firearm," he argued. "What's more, you have domestic violence with that."
"It simply doesn't make any sense any more. We're not going to defend Switzerland against the Red Army from the kitchen window or the back yard. That's something that could have happened in 1940… today the dangers are different."
But the Swiss army is a national institution, and changing anything about it is controversial.
In an emotional televised debate, Defence Minister Ueli Maurer argued that taking the guns away would undermine the military.
"The state asks from me, and all other men, that I be prepared to lay down my life if necessary, to guarantee freedom in my country," he said.
"I had to swear to that when I was in the army… so do all the other recruits. Now the same state is saying these young men can't be trusted with their weapons. And that's the problem, if the state starts to distrust its citizens, then things will go badly wrong."
And members of Switzerland's influential gun lobby say the proposals will achieve nothing.
Dora Andres, president of the Swiss Federal Shooting Association, dismisses claims made by some women's groups that Swiss women would feel safer if guns were no longer stored at home.
"If a woman doesn't feel safe at home, if she feels afraid, that's a problem of her relationship, not a problem with weapons," she said.
"I am against this proposal because it does nothing to improve our safety, nor will it lower our crime rate."
The choices being presented to voters by the two opposing campaigns have been simple and emotive.
On the one hand - saying no to gun control and preserving what many regard is a proud national tradition. Or saying yes, and introducing a new-style Swiss army which many claim will make Swiss homes safer places.
Latest opinion polls show the vote is likely to be very close, with more women than men supporting greater gun control.
Mr de Haller of the SMA still hopes Switzerland's suicide figures will persuade those who have yet to make up their minds.
"The fact that young men in Switzerland go back home after military service with a firearm translates into terrible statistics - we literally have hundreds of suicides."
"Switzerland is a small country, we have seven million inhabitants, and I think, if we can prevent 60, 70, maybe 100 deaths every year, it's really worth it."
Related Internet Links
The BBC is not responsible for the content of external sites.