Enda Kenny not taking part in Irish election debate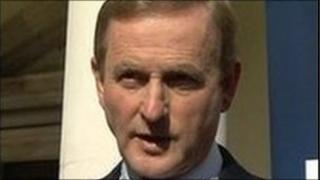 A TV election debate being held in the Irish Republic on Monday night will not feature the man opinion polls suggest could be the new prime minister.
Fine Gael leader Enda Kenny has said his schedule means he will not be taking part in the TV3 programme.
Fianna Fail leader Micheal Martin and Labour leader Eamon Gilmore will participate.
The Republic's general election is being held on 25 February. The Irish parliament was dissolved on 1 February.
Outgoing Taoiseach Brian Cowen is not standing for re-election - his term in office is ending more than a year before it was due to.
Tuesday is the last day for people, not yet registered to vote, to get their names on the supplementary register.