EU-Hungary row: Changes to media law agreed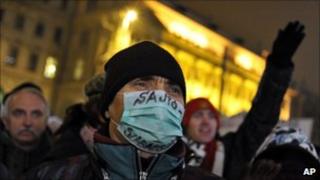 Hungary has agreed to make its controversial media law "more precise", after talks with EU experts.
The start of the country's six-month EU presidency has been clouded by the row, with critics arguing that the law curbs freedom of speech.
Hungary's Communication Minister Zoltan Kovacs said that the government had agreed to work on the wording of the law and to submit the text on Thursday.
He said that both sides were "very, very close" to resolving the issue.
Thousands of protesters took to the streets of Budapest last month in response to the law and Euro MPs put gags on their faces when Hungarian Prime Minister Viktor Orban visited Brussels.
Activists said they feared that a new media authority created under the law would follow the centre-right government's political agenda.
The European Commission has identified three problems with the law which came into effect on 1 January, the day Hungary took over the EU presidency.
The commission believes the law's rules on balanced reporting breach EU regulations because they apply to media beyond broadcasting, such as video blogs
It believes the law's provisions on "country of origin" could result in fines on foreign media outlets for non-compliance
It believes the requirement for all media services to register with the new authority could restrict rights of freedom of expression
Mr Kovacs told the BBC News website that negotiations on Monday involving media and legal experts had covered three paragraphs of the law relating to balanced reporting, country of origin and media registration.
But he said he had stated "many times that these are technical issues".
"We have agreed to work on some texts that can make it [the law] clear, more precise."