French minister Alliot-Marie admits Tunisia 'error'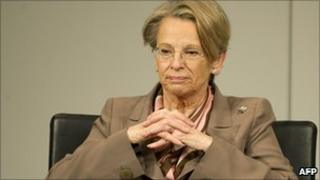 French Foreign Minister Michele Alliot-Marie has admitted she was wrong to fly on a Tunisian businessman's plane during the country's uprising.
The minister has faced calls to resign because the plane was owned by Aziz Miled, allegedly close to a relative of ousted leader Zine al-Abidine Ben Ali.
Ms Alliot-Marie told French radio "it was an error" to take the free flights.
She said she had not realised the potential problems that could arise from an arrangement made with a friend.
The foreign minister had faced initial criticism last month for suggesting that France was offering Tunisia help in restoring order shortly before the fall of the Ben Ali regime.
But more recently she has come under pressure to resign for accepting a flight during a family holiday to Tunisia in December.
The pressure intensified at the weekend following press revelations about a second flight while the uprising was already under way.
MPs called on President Nicolas Sarkozy to comment.
"Either he defends and keeps Michele Alliot-Marie... or he takes decisions and makes choices about the government line-up," Socialist MP Francois Hollande said.
Ms Alliot-Marie responded to the mounting criticism on Monday with a promise never to accept a free flight on a private jet again.
"Beyond my [ministerial] duties, I always use airlines and try to live as normally as possible," she told Europe 1 radio.
"But during that time, I didn't."
She said that it was possible it was because she was exhausted and with friends that she had not realised the potential difficulty, but she profoundly regretted her decision.