France and Germany propose EU 'competitiveness pact'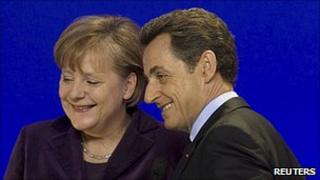 France and Germany have proposed a European "competitiveness pact" aimed at eliminating policy differences that have weakened the 17-nation eurozone.
The pact could mean eurozone governments following Germany's example by making it a constitutional violation to exceed limits on national debt.
The plans met resistance during talks on the sidelines of a Brussels summit.
There was talk of holding a special eurozone summit next month but no decision was taken.
German Chancellor Angela Merkel told other EU leaders that the euro must be defended as a political project.
The new pact could also mean more countries raising the retirement age.
Under the plan, the practice of index-linking salary increases to inflation - a custom in Belgium and Portugal - would also be scrapped.
Plea for convergence
"What we want to establish is a pact for competitiveness, and in so doing we want to make it very clear that we intend to grow together more closely on a political level," Mrs Merkel said at a joint news conference with French President Nicolas Sarkozy.
"We want to take the best practices as a benchmark, and in order to achieve that, we want to agree on particular measures."
Mr Sarkozy also called for more convergence and integration of European economies.
The gulf in economic performance across the eurozone is believed to have undermined confidence in the euro, with German exports surging ahead while Spain languishes in the doldrums with record unemployment.
The eurozone initiative came at a Brussels summit that was intended to focus on energy and innovation.
The energy discussions resulted in an EU action plan aimed at developing an integrated, single European energy market and modernising the energy infrastructure.
Market pressure eases
EU leaders sought to underline again their commitment to the euro, following emergency bail-outs of Greece and the Irish Republic last year.
In the last few weeks, interest rates on the debts of governments in difficulty, such as Spain and Portugal, have come down.
That is a sign that lenders are more confident that they will be repaid.
The eurozone governments are having a broader discussion about ways to strengthen the 440bn-euro (£374bn; $605bn) bail-out fund - called the European Financial Stability Facility (EFSF) - which was set up last May.
The BBC's Europe correspondent Chris Morris says the Franco-German move lays bare a flaw at the heart of the euro project - that it created monetary union without economic union.
Countries with the same currency were allowed to pursue very different economic policies.
Many of the details will be bitterly contested, but if Germany and France get their way those differences will begin to disappear. And countries outside the eurozone, like the UK, will have to choose how closely involved they want to be, our correspondent says.