Deadly German church attack swordsman is missing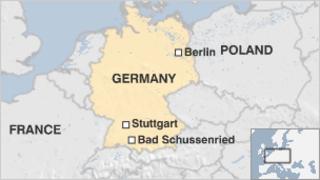 German police have been searching for an escaped Sri Lankan mental health patient who made a deadly samurai sword attack on a Stuttgart church in 2005.
The 30-year-old failed to return to the Bad Schussenried psychiatric hospital after being let out on leave.
He had been diagnosed with paranoid schizophrenia after the attack, in which he killed one woman and injured three other people.
A doctor says he has been free of his symptoms for a long time.
However, there is concern that the symptoms may return if he stops taking his medication, the German news website Suedwest Presse reports.
German media suggest the man may have fled after learning he faced deportation.
'Divine orders'
A 43-year-old woman was killed in the attack on 3 April 2005.
One of those wounded, a man of 25 lost a hand, which surgeons managed to sew back on.
The ethnic Tamil man told his trial that he had been acting on divine orders.
He had approached the chairman of the congregation and asked him: "Why are your wife and daughter so sexily dressed?"
Other members of the congregation at the Church of Christ then rushed over to him.
"Jesus took hold of my hand and smote several times with the sword," the man said, adding that God had been speaking regularly to him since 2003.
He was sentenced to psychiatric custody in December 2005.