Germany's first burka ban imposed by state of Hesse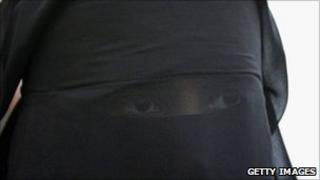 The German state of Hesse has become the first in the country to impose a ban on the full Islamic face veil for public sector workers.
The western state had already stopped teachers and civil servants wearing headscarves to work in 2004.
The case was brought after a woman working for the city of Frankfurt said she did not intend to reveal her face on her return from maternity leave.
A similar ban is being considered in Lower Saxony, local media report.
The woman in Frankfurt at the centre of the Hesse decision is said to have worn a headscarf before going on maternity leave.
"Civil service employees and those who come into contact with citizens should not be veiled," Hesse's Christian Democrat interior minister Boris Rhein said in a statement.
He told the state parliament in Wiesbaden that not being able to see the person sitting opposite you affected the relationship between citizen and state.
A member of Hesse's Islamic community told German media that wearing a burka was not a religious requirement and that headscarves were sufficient.
MPs in both France and Belgium have approved bans on burkas but no such restrictions have come into force in Germany until now.
The interior minister in the north-western state of Lower Saxony said officials were also looking into a possible ban on the burka for public workers.
State social affairs minister Aygul Ozkan was quoted as telling the newspaper Neue Presse that she was in favour of a ban.