Fehmarn link: Denmark opts for sea tunnel to Germany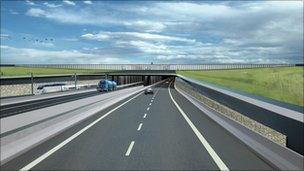 Denmark is to build an underwater tunnel to Germany, cutting road and rail journey times between western Europe and Scandinavia.
The Danish parliament rejected plans for a bridge across the Fehmarn Strait in favour of the tunnel, deciding it would be safer and greener.
Denmark and Germany agreed on the need for the 18km (11.6 miles) link in 2008.
Construction of the Danish-funded tunnel is to begin in 2014 and should be completed within six years.
A budget of 32bn kroner (4.2bn euros, £3.7bn, $5.9 billion) has been drawn up.
The tunnel will be built between the Danish island of Lolland and the German island of Fehmarn. Both islands are already connected by bridges to the rest of their respective countries.
When the tunnel is completed, the duration of a rail journey between Hamburg and Copenhagen will be cut from about 4.5 to three hours, the project's website says.
Journey times to Sweden, which is connected to Denmark by the Oresund sea bridge, will also be reduced significantly.
In return for funding the tunnel, Denmark will have ownership and will collect tolls.
Related Internet Links
The BBC is not responsible for the content of external sites.