Berlin eviction prompts clashes at former squat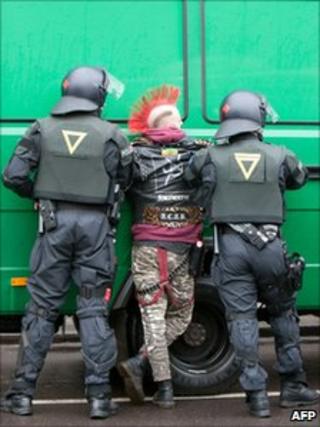 More than 2,000 police have faced resistance from activists in Berlin as they moved in to clear one of the city's biggest former squats.
Some 32 people were arrested and eight officers injured after scuffles with protesters, local media say.
Disturbances broke out around the building, Liebigstrasse 14, as the 25 residents refused to leave.
Squatters had originally occupied the building in 1990 and it later became a major housing project.
Situated in the Friedrichshain area of former communist east Berlin, the former squat has since become a symbol of the dispute between housing developers and largely leftist residents.
It has been at the centre of a lengthy court battle.
Its status has changed repeatedly over the years as residents have tried to gain some sort of legal status or even buy the building, correspondents say.
Private owners bought it from the city in 1999, and tolerated the residents until two years ago when an eviction order was served.
An earlier demonstration on Saturday was said to have left around 40 police hurt and a number of the officers at the scene early on Wednesday were dressed in riot gear.
As the police tried to enter the building, people leaned out of windows and banged pots and pans.
"They are driving people like us out on to the outskirts of big cities because of property speculation," one protester complained.
Although stones and bottles were reportedly thrown, the demonstration was largely peaceful.
A number of people were arrested for spraying the police, Berlin news website Tageszeitung reported, and at one point, a TV-truck was sprayed with shaving foam.
By afternoon, police had removed barricades inside the former squat and had taken control of it.