Russia warns Ireland it will retaliate in spy row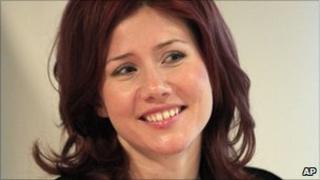 Moscow has warned Dublin it will retaliate for the "unfounded" expulsion of a diplomat over the alleged theft of six Irish citizens' identities.
Their identities were allegedly used to provide cover for members of a 10-strong Russian spying ring which was cracked in the US last year.
One spy, Anna Chapman, allegedly used details stolen from a member of Dublin children's charity To Russia With Love.
The Russian foreign ministry promised to respond, but did not give details.
Tit-for-tat expulsions, in which a diplomat of equal standing is expelled, are usually not announced until after the first diplomat leaves the country, and it is unclear if the Russian has left Ireland yet.
The Irish Republic's foreign affairs department said on Tuesday it had, with regret, taken the decision to expel the Russian after a police investigation.
Speaking in Moscow on Wednesday, Russian Deputy Foreign Minister Vladimir Titov said: "This is an unfounded and unfriendly act, which of course will not go without a corresponding reaction."
Last June, a network of 10 Russian spies living as US citizens was uncovered - with several using Irish passports. They were swiftly deported as part of the biggest US-Russia spy swap since the Cold War.
Fabrication
Irish police investigated how six Irish passports had ended up in the hands of the spies.
Among those who had their identities stolen was Catherine Sherry, a volunteer with To Russia With Love, which works with orphans.
Also affected were Eunan Gerard Doherty, a firefighter from Carndonagh, Co Donegal, and his wife Maureen.
All of the Irish citizens involved had been granted visas at the Russian embassy in Dublin, the Irish Independent newspaper reports.
Last year, Dublin expelled an Israeli diplomat after its secret service was suspected of using five forged Irish passports on a mission to kill leading Hamas militant Mahmoud al-Mabhouh in Dubai.
An Irish foreign affairs department spokeswoman said on Tuesday that the government had "once again made clear that it [would] not tolerate the fabrication and use of forged Irish passports by agents of a foreign state".
"It is hoped that it will be possible to move on from this disturbing incident and to develop further the relationship between Ireland and the Russian Federation which is fundamentally strong and which has significant potential," the spokeswoman added.
Annual trade between the two countries is worth about 2bn euros (£1.7bn, $2.7bn), Irish President Mary McAleese said recently.
By comparison, annual UK-Russian trade is worth 7bn euros (£6bn, $9.6bn).
The Irish Republic pioneered business ties with Moscow in the final years of the USSR, netting contracts to operate duty-free shops and other civil aviation-related business.