Fifty-vehicle pile-up blocks slip road at Paris airport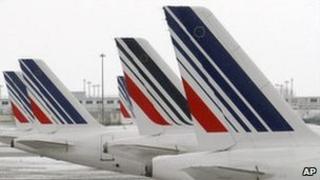 A 50-vehicle pile-up caused by black ice has blocked a slip road at Paris airport Charles de Gaulle, leaving 30 people injured, French media report.
The road became blocked at 0600 (0500 GMT) after a night of freezing rain across northern France caused numerous accidents on the roads.
The situation was due to ease by midday, with milder weather forecast.
Hundreds of car crashes were also reported on roads in northern Germany, affected by black ice as well as snow.
Traffic disruption in the Charles de Gaulle area was expected to continue until lunchtime, le Parisien newspaper said, quoting the regional highway information centre.
As of 0830, there were 210km (130 miles) of traffic jams in the Ile-de-France region, which includes the French capital.