Moscow airport bomb: Deaths climb to 36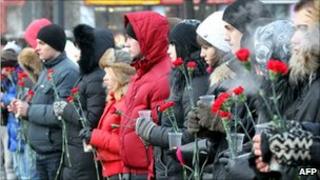 Another victim has died of injuries sustained in the Domodedovo airport bomb attack near Moscow, Russian officials say.
The number of deaths in the 24 January bombing has risen to 36 with 114 others still being treated in hospital.
The latest victim had been in a coma, receiving treatment for a brain injury, the health ministry said.
A suicide bomber has been blamed for the attack, which tore through the airport's international arrivals hall.
Although no group has yet said it was behind the bombing, investigators believe it was carried out by a 20-year-old man from the Caucasus.
The attack has been linked to an explosion at a Moscow guest house on New Year's Eve in which a woman died.
She has been named as the wife of a leading militant from the republic of Dagestan. Officials believe she had been planning a separate suicide bomb attack.
Ten suspects have been arrested in connection with the New Year's Eve explosion, Russian prosecutors said on Wednesday.
The latest detainee is a 35-year-old Dagestani, Artur Magomedov, who reportedly handed himself into the authorities at the end of last month.
The detainees are suspected of belonging to a group which planned a series of terror attacks during Moscow's new year celebrations.