Ireland expels Russian envoy over faked spy passports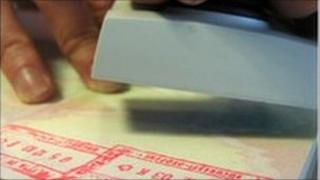 Ireland is expelling a Russian diplomat over claims his country's intelligence services counterfeited Irish passports.
A police investigation found the identities of six Irish citizens were used as cover for Russian spies found to have been working in the US, said an Irish foreign ministry statement.
Such activities were "completely unacceptable", the ministry said.
In response, the unnamed diplomat "has been asked to leave this jurisdiction", it said, without specifying a date.
The ministry said it was "regrettable" that the action was necessary, but that the behaviour of the Russian intelligence service was not what the Irish government "would expect from a country with which we have friendly relations".
Last June, a network of 10 Russian spies living as US citizens was uncovered - with several using Irish passports. They were swiftly deported as part of the biggest US-Russia spy swap since the Cold War.
The case attracted ridicule in some quarters - "their penetration of the American establishment seems not to have got much beyond attending parent-teacher associations and posing on Facebook", as the BBC's Paul Reynolds put it.
Nevertheless, the Russian government remained bullish over the incident, handing down awards to the 10 at a ceremony at the Kremlin last October.