Germany scales back anti-terrorism measures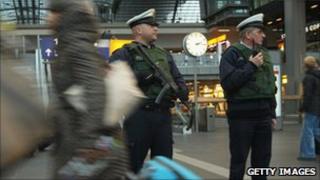 Germany is relaxing security measures imposed in November last year in response to fears of terrorist attacks.
Interior Minister Thomas de Maiziere has announced that the police presence bolstered at airports and railway stations will be gradually reduced.
But he added that he couldn't see "an 'all clear' in the foreseeable future".
The security level was raised after an international tip-off that Islamist extremists were making "sustained efforts" to carry out attacks.
Federal police were ordered to step up checks after a parcel bomb, sent from Yemen to the United States via the German city of Cologne, was intercepted in the UK.
German officials also said they had been warned by another country that extremists were planning an attack.
'Good impact'
Mr de Maiziere told reporters that the threats had now been addressed. Although he could not be sure the measures taken in November had stopped an attack, "they had a good impact".
He added that if new threats emerged, federal and state governments were prepared to beef up security again.
Although Germany has not suffered any recent militant attacks, several plots have been thwarted and it is considered a potential target because of its involvement in the Nato mission in Afghanistan.
There is no sign of restrictions on visitors being lifted at the German parliament building, the Reichstag. Its popular viewing area, the cupola, was closed amid media reports that militants were planning to break into the building and seize hostages.
A spokeswoman for the parliament told newspaper Die Welt that, for the moment, there was no change.