Spain agrees 'grand social pact' for economy overhaul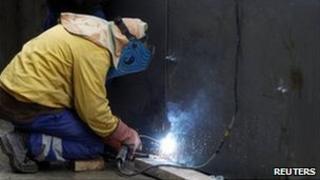 Government, labour unions and business groups in Spain have struck a "grand social pact" to allow for an overhaul to boost the economy.
The agreement was widely expected after the three agreed on Friday to raise the compulsory retirement age from 65 to 67, one of the highest in Europe.
It is expected that some changes will be announced this week.
Standard & Poor's welcomed the move to reforms but said Spain's sovereign debt rating remained under pressure.
The country is struggling to revive its economy, the fifth-largest in the EU, and avoid an international bail-out like those in Greece and the Irish Republic.
Its jobless rate is just about 20% at a time the eurozone average is 10%.
'Still under pressure'
Changes affecting collective bargaining, the energy market, and research and development are likely to be announced this week.
Standard & Poor's analyst Marko Mrsnik said the ratings agency acknowledged Spain's political resolve to deal with outstanding challenges, as well as its push for budgetary consolidation and structural reform.
"The ratings will remain under pressure from what we deem to be high private-sector indebtedness, challenges to the economy's competitiveness, persistently difficult market conditions and the economy's weak net external financial position," he told Reuters news agency.
In some good news for Spain on Monday, the government forecast that the contraction of the economy in 2010 might be limited to 0.2%.
A decline of 0.3% had originally been predicted for the year.
But consumer prices rose by 3% year on year in January, preliminary data from the National Statistics Institute showed on Monday.
Fuelled by price rises in electricity, food and non-alcoholic drinks, the figure was slightly above the 2.9% rise in harmonised prices for December.