Srebrenica war crimes suspect Momic arrested in France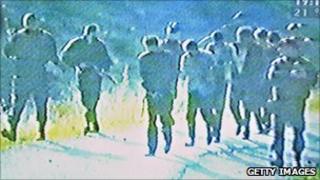 A former Serbian paramilitary suspected of taking part in the Srebrenica massacre in Bosnia in 1995 has been arrested in south-eastern France.
Milorad Momic, 47, was detained close to Grenoble under an international arrest warrant issued by Serbia for crimes against humanity.
He was arrested on his way to work while using the false name, Guy Monier.
Mr Momic was allegedly part of the Scorpions unit, involved in the murder of nearly 8,000 Muslim men and boys.
The authorities in Grenoble told the AFP news agency that Mr Momic had appeared before the public prosecutor on Tuesday with a view to his eventual extradition to Serbia. The justice ministry in Belgrade said it would apply for his extradition in the coming days.
'False papers'
During the 1990s, the Scorpions special unit was controlled by Serbia's interior ministry and took part in the conflicts in Croatia and Bosnia and later in Kosovo.
A special court in Belgrade jailed four of the group's members in 2007 after a video came to light showing them shooting captured Muslims at Srebrenica.
In the indictment filed before the case came to court, the Serbian war crimes prosecutor alleged that Mr Momic was part of the group instructed to kill the six captives at a nearby site.
Reports say he had been living in the French Alps for some years using false identity papers and working for a building renovation company.