New Fianna Fail front bench is named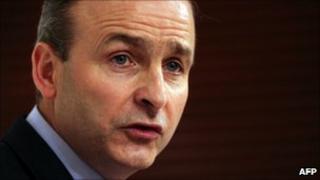 The new leader of the Republic of Ireland's governing party, Fianna Fail, has named his new front bench team.
Mary Hanafin is the new deputy leader of the party, while the government chief whip John Curran is named as justice spokesperson.
Barry Andrews will be health spokesperson, Billy Kelleher, transport, Peter Power, foreign affairs and trade and Niall Collins defence.
Brian Lenihan will continue as the finance spokesperson.
Mr Martin said that 14 of the 21 people named on the front bench had not served in Cabinet.
He has named former defence minister Willie O'Dea as spokesperson on communications, energy and natural resources.
Mr Martin, 50, was elected leader of Fianna Fail last week, a week after he launched a failed leadership challenge against Brian Cowen - a move that helped to fatally destabilise the prime minister.
Mr Cowen quit as party leader, but announced he would stay on as prime minister.
Meanwhile, friends and supporters of Mr Cowen have said they expect him to tell party sources later whether or not he will be a candidate in the general election.
There is ongoing speculation that Mr Cowen will not contest the election.
He is expected to dissolve the Irish parliament (Dail) on Tuesday and announce a date for the election.