Germany rail crash: goods train driver investigated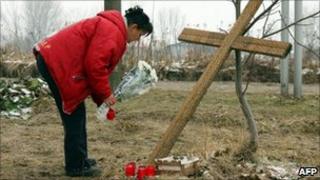 A German goods train driver is being investigated for alleged involuntary manslaughter after a rail crash in which 10 people died.
The goods train collided head-on with a passenger train in thick fog near the village of Hordorf in the eastern state of Saxony-Anhalt on Saturday night.
The passenger train driver was killed and another 23 people were injured.
Investigators want to find out whether the goods train driver failed to respond to a stop signal.
The crash happened on a stretch of single line track at about 2230 local time (2130 GMT) on Saturday, shortly after the passenger train had left Magdeburg station.
An eye-witness report raised suspicions about the conduct of the goods driver although police have not yet been able to speak to him.
The front carriage of the passenger train was severely damaged and several carriages behind it were derailed.
Ten people are still being treated in hospital and police have so far only managed to identify two men who died, aged 63 and 74.
They are having difficulties naming the eight remaining victims partly because they were not carrying identity papers but also because of the injuries sustained by the force of the crash.