EU freezes assets of Tunisia's ousted President Ben Ali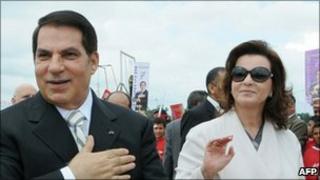 The European Union has frozen the assets of ousted Tunisian President Zine al-Abidine Ben Ali and his wife.
The sanctions were approved by EU foreign ministers, after a request from Tunisia's new interim government.
Mr Ben Ali fled Tunisia earlier this month after a series of protests against poverty and corruption, ending his 23 years in power.
He and his family are accused of having enriched themselves over many years at the country's expense.
Tunisia generally enjoyed steady economic growth under Mr Ben Ali, but many - including the young men who launched the protests in December - remained poor.
The president's family and his associates are believed to have controlled a large portion of the country's economy.
A number of associates of the deposed president may face similar sanctions, EU officials said.
The EU is looking at resuming talks, begun with Tunisia while Mr Ben Ali was in power, on improving trade terms with the country.