Russia 'identifies' Domodedovo airport bomber suspect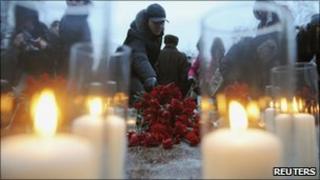 The suicide bomber who killed 35 people at Moscow's Domodedovo Airport was a 20-year-old man from the North Caucasus, Russian investigators say.
The Federal Investigative Committee made the announcement in a statement on its website.
But spokesman Vladimir Markin said the man's name would not be released, while investigations continued.
Some 180 people were injured during Monday's blast at the airport's international arrivals hall.
The investigative committee said that the bombing was aimed "first and foremost" at foreign citizens.
"I would especially like to note that it was by no means an accident that the act of terror was committed in the international arrivals hall," Mr Markin said in the statement.
At least seven foreigners were killed in the bombing at the airport - the busiest serving the Russian capital. The arrivals hall was full of people as several international flights had just landed.
Those killed included one person each from Britain, Germany, Austria, Ukraine, Tajikistan, Kyrgyzstan and Uzbekistan.
Sixteen Russians were among the dead and the remaining 12 people who died have not been identified.
Russian President Dmitry Medvedev sacked several officials - said to include a regional transport chief and a Moscow police deputy head - after the bombing, blaming them for poor security.
Last March, Moscow's underground system was rocked by two female suicide bombers from Russia's volatile Dagestan region, who detonated their explosives on the busy metro system during rush hour, killing 40 people and injuring more than 80.