Macedonian TV moves into street as political row brews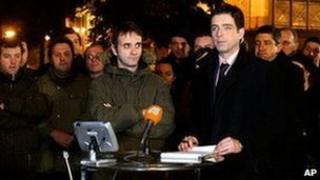 The main pro-opposition TV station in Macedonia has moved its broadcast operation into the street to protest at the freezing of its bank account.
Accusing the government of trying to shut it down, A1 began broadcasting in freezing conditions outside the government building in Skopje.
The tiny Balkan state's opposition Social Democrats walked out of parliament in support of the channel.
They accused the government of behaving undemocratically.
While the party's boycott is mainly symbolic, it highlights growing dissatisfaction in Macedonia, one of Europe's poorest countries and a candidate for both EU and Nato membership.
Prime Minister Nikola Gruevski has rejected opposition demands for early elections.
A1 TV news anchor Goran Petreski read Thursday evening's bulletin standing at a table with a microphone in the street, as some 50 TV staff huddled around him in the cold.
The channel gave outside broadcasts a whole new meaning, an AFP news agency report quipped.
Channel owner Velija Ramkovski and 16 executives from his companies - which include three newspapers - have been in detention since their arrest in December on tax fraud charges.
The government dismissed the channel's street broadcast as an "abuse of media power", saying it was a "manipulation... aiming to harm the government's image".