Germany's Afghanistan mission extended by one year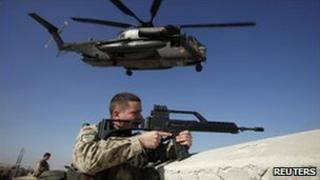 The German parliament has voted to extend the military mission in Afghanistan by one year despite polls suggesting its unpopularity at home.
Germany currently has 4,860 service personnel deployed in Afghanistan as part of the international peacekeeping force Isaf.
Extending the mandate to 31 January 2012, parliament set the maximum troop number at 5,350.
Meanwhile, Dutch MPs approved a police training mission for Afghanistan.
Germany's mission extension was passed by a large majority in the Bundestag in Berlin - 420 votes in favour, 116 against and 23 abstentions.
The motion stresses that the government means to begin reducing the deployment from the end of this year "provided the situation allows this".
"We want to begin this year to hand over responsibility at regional level and then at the end of the year to start to reduce the presence of the Bundeswehr [military]," said Foreign Minister Guido Westerwelle.
"And we want to make sure that by 2014 there is no longer any need for German troops in Afghanistan."
As German forces have been drawn into fighting in Afghanistan, 45 soldiers and police officers have been killed.
That has intensified a debate about the German role overseas in the light of its constitution which forbids going to war on foreign soil, the BBC's Stephen Evans reports from Berlin.
Dutch agreement
Germany is the third-biggest troop contributor to Isaf after the US and UK.
Opinion polls suggest the deployment is deeply unpopular with the German public.
In The Hague, the Dutch parliament approved a 545-strong police training force for Afghanistan, after the minority Liberal-Christian Democrat government won backing from three small opposition parties.
The anti-Islam Freedom Party of Geert Wilders, on which the government otherwise relies for support, opposed the mission.
Prime Minister Mark Rutte personally guaranteed he would keep the mission within its agreed limits.
The international community had, he said, "made a promise to the Afghan population for peace and stability... and I think it is unbelievably important that the Netherlands keeps playing a role in that".
In concessions to the opposition lawmakers, the government said it would increase training for Afghan police recruits from six to 18 weeks.
Cadets would also learn about "human rights, women's and children's rights and integrity" in addition to regular weapons training, and those who were illiterate would learn to read and write.
The country's previous coalition government collapsed because of divisions over whether to withdraw combat units, which were eventually pulled out last summer.