Silvio Berlusconi: Prosecutors seek search warrant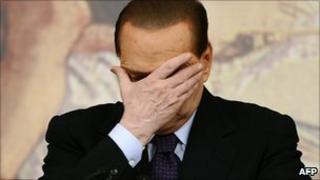 Prosecutors investigating Italian PM Silvio Berlusconi have sought the permission to search the offices of one of his aides.
Giuseppe Spinelli, who manages Mr Berlusconi's holding company Fininvest, is accused of handling money the prime minister allegedly used to pay for sex with an under-age prostitute.
Milan magistrates submitted documents to a parliamentary committee to argue they needed to raid his offices.
Mr Berlusconi denies any wrongdoing.
On Tuesday, he telephoned a TV programme discussing the issue and launched into a tirade, denouncing it as "disgusting whorehouse television based on lies".
New documents
Prosecutors submitted a 389-page document on 17 January, in which they said they had proof of payments made by the billionaire leader to prostitutes, including a dancer known as Ruby who was 17 at the time.
On Wednesday, they presented more than 200 pages of new documents to one of the Chamber of Deputies' committees in the hope that it would grant them permission to search Mr Spinelli's offices.
"New elements have emerged regarding the existence of documents and acts in Giuseppe Spinelli's office relevant to the enquiry", Bruti Liberati, one of the prosecutors, told reporters in Rome.
The committee had postponed its decision on the warrant for a week because its rapporteur, a member of Mr Berlusconi's People of Freedom party, said he needed more time to assess the prosecutors' initial submission.
Mr Spinelli has described the scandal as exaggerated and insisted any payments to the women involved, as well as the decision to loan them apartments, were merely acts of charity.
The prime minister's lawyers have meanwhile submitted documents which reportedly include testimony from several witnesses denying the allegations that he hosted parties that included dancing topless girls and orgies.
Ruby, a Moroccan whose real name is Karima El Mahroug, has said Mr Berlusconi gave her 9,000 euros at the end of one of the parties, but that it was not in exchange for sexual favours. She denied being a prostitute.
A former showgirl-turned-councillor, Nicole Minetti, who was propelled into politics by the prime minister, has been subpoenaed in the case.
'Insulted'
Mr Berlusconi has said he would like to defend himself to the prosecutors but "cannot because they do not have the jurisdiction to rule in this case".
On Tuesday, he telephoned a talk show on the private TV channel La7 - one of the few his company or the government has no control over - which was discussing the sex scandal to complain that the programme was being "conducted in a despicable, vile and repugnant way".
The programme's host, the well-known journalist Gad Lerner, asked Mr Berlusconi to tone down his comments and at one point called him an "ignorant lout" when he criticised one of the female guests.
"Why don't you go before the magistrates instead of insulting people?" Mr Lerner asked.
The prime minister retorted: "The reality that has been represented here is the opposite of the truth and I feel insulted."
"I know what I'm saying, you don't," he added, before urging Italian MEP Iva Zanicchi, another of the guests and a member of his ruling party, to walk out of the studio.
Meanwhile, Culture Minister Sandro Bondi survived a confidence vote in parliament on Wednesday over the poor condition of the archaeological site at Pompeii, where several structures have collapsed.