Irish government crisis: Key bail-out bill set to pass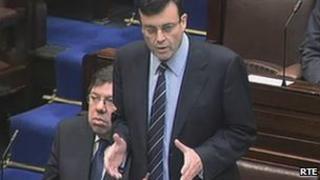 Parliament in the Irish Republic seems likely to pass an austerity bill seen as crucial to its ability to honour its bail-out commitments.
Prime Minister Brian Cowen's minority government won the vote on the bill at its second reading on Wednesday by 80 votes to 77.
The bill is Ireland's final legislative commitment under the 85bn euro ($113bn; £72bn) EU/IMF rescue.
The country faces a general election as early as next month.
Tax measures in the finance bill are already being implemented but Dublin had a deadline of the end of March to pass the budget in full.
Investors have been sceptical that Ireland can meet its fiscal and debt goals due to weak economic growth.
An 11th-hour meeting between the prime minister (taoiseach), Finance Minister Brian Lenihan and two rural independent members apparently ensured the bill's safe passage.
The bill was initially passed in an electronic ballot by 80 to 78 votes but a subsequent walk-through vote changed the tally to 80 to 77, after one member abstained.
The bill, which must still be passed at a third reading, has now gone to committee stage.
Leadership vote
Mr Cowen's Fianna Fail party is due to elect a new leader later on Wednesday.
The four candidates vying to succeed him are Micheal Martin, Brian Lenihan, Eamon O'Cuiv and Mary Hanafin.
Mr Cowen announced he was stepping down as Fianna Fail leader on Saturday, after a week of political turmoil which saw him lose his coalition partner, the Green Party.
Opinion polls suggest his party will be badly hit in the election.